Mary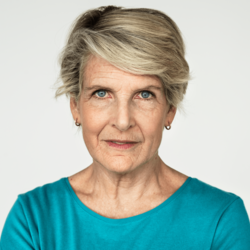 Congratulations to Mary who has succesfully quit smoking, we caught up with her to see how she managed this.
What was your main reason for accessing the service?
My main reason for accessing the service was my breathing, I have noticed that recently I'm struggling to breathe and find walking especially up any sort of incline difficult and very uncomfortable.
Whilst attending my annual health check I asked if it would be possible to try and stop smoking "again" which sadly they no longer do at my GP's, but instead they referred me to Yorkshire Smokefree.
Did you believe you could achieve 4 weeks Smokefree?
Yes - when I have tried stopping previously I have always done really well whilst on patches so I knew I would be able to successfully quit with support.
Have you used stop smoking medication to help you quit?
Yes I've been wearing the 10mg patches for 8 weeks and I've also used the Nicorette Inhalator occasionally.
How helpful did you find it?
It's like a switch gets turned on when I'm wearing a 10mg patch, I wouldn't dream of smoking whilst wearing one. Even though the 10mg patch I'm told is the lower strength patch I find these comfortable and offer me enough support.
The Nicorette Inhalator are ok but I find I only use it when I'm bored and just need to distract myself, I don't think I get a lot of nicotine from it.
Apart from medication, what else helped you to quit and stay smokefree?
Medication helps but I believe you have to want to stop smoking when you're ready, not because you've been told by someone else as it's not easy and talks a lot of time and effort to accomplish.
I've had a lot of encouragement from my family as I'm the only smoker and they all hate it especially my daughters', so that helps as I've no temptation or smoking friends to persuade me to have a quick cig.
Keeping busy is the key to stopping smoking as when I'm bored it's really the only time I think about a cigarette but it's only a fluttering thought and quickly passes as I get up and do something to distract myself.
Has your health improved since you quit and if so, in what ways?
I've not been getting out much due to local restrictions but it was only the other day whilst walking up Woolshops in the centre of Halifax that my daughter mentioned that I walked up the hill without being out of breath or having to stop halfway.
Since then I have noticed that my breathing has improved and I no longer find myself feeling uncomfortable and out of breath when preforming simple tasks around the house or whilst out walking.
Other than health, have you achieved anything since quitting that you couldn't do whilst smoking?
Not whilst in lockdown but I feel so much better in myself and I've now managed 8 weeks not smoking which is a massive achievement in itself.
Has the current lockdown helped with your quit or has this made quitting harder?
I have found lockdown a difficult time to quit but at the same time it's given me something to focus on.
It's the isolation that I've found difficult not seeing family and friends for days at a time but I'm managing and I've looked forward to speaking with my stop smoking advisor who has phoned me every week for 8 weeks.
I know it's his job but it's really helped knowing that I've had my own advisor ringing me from the comfort of my home to update him on my progress. It's helped a lot.
What have you found helpful accessing the service via the telephone?
Speaking with the same advisor has been great and I've really enjoyed our weekly chats.